Things to Know about David by Michelangelo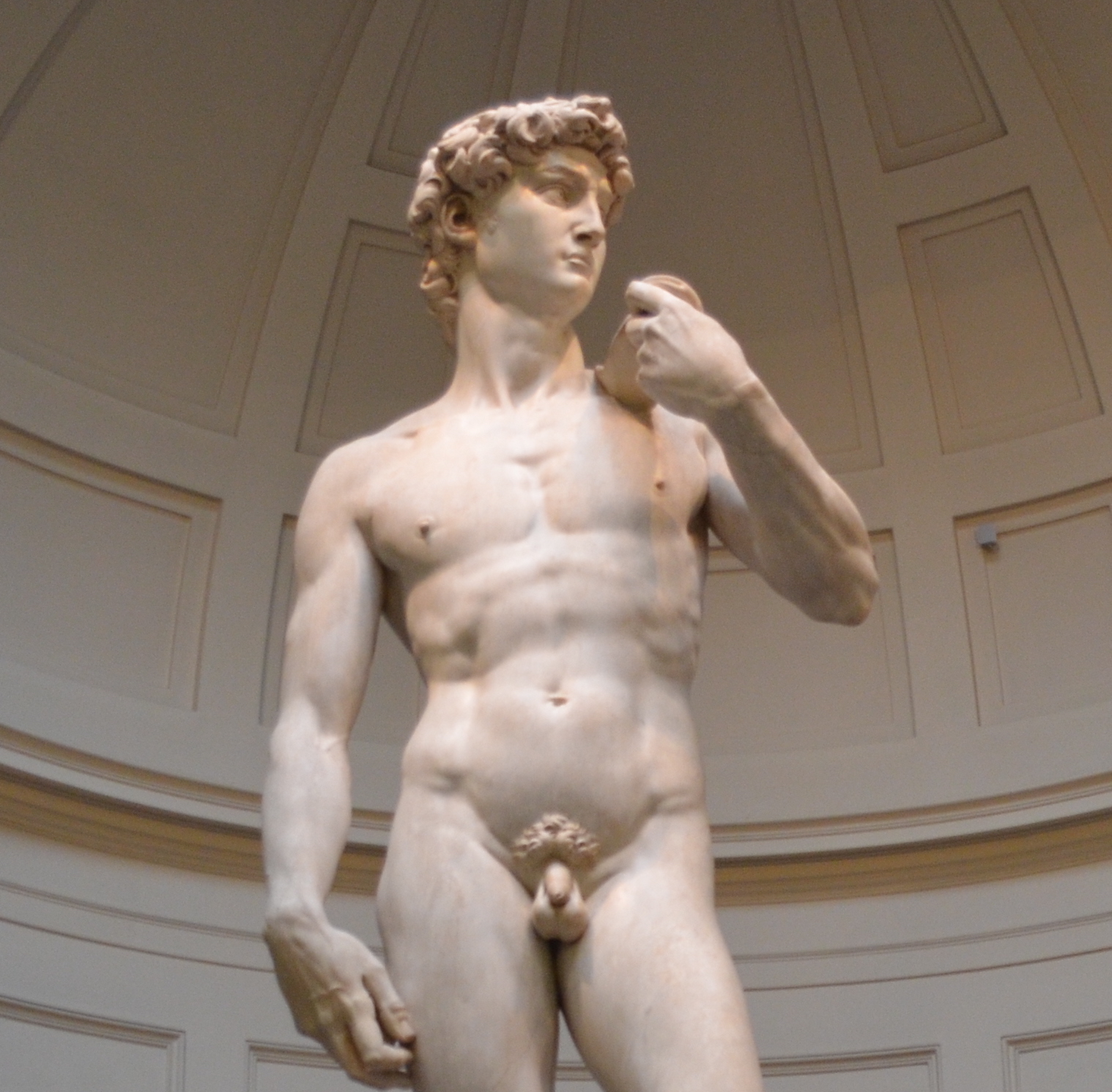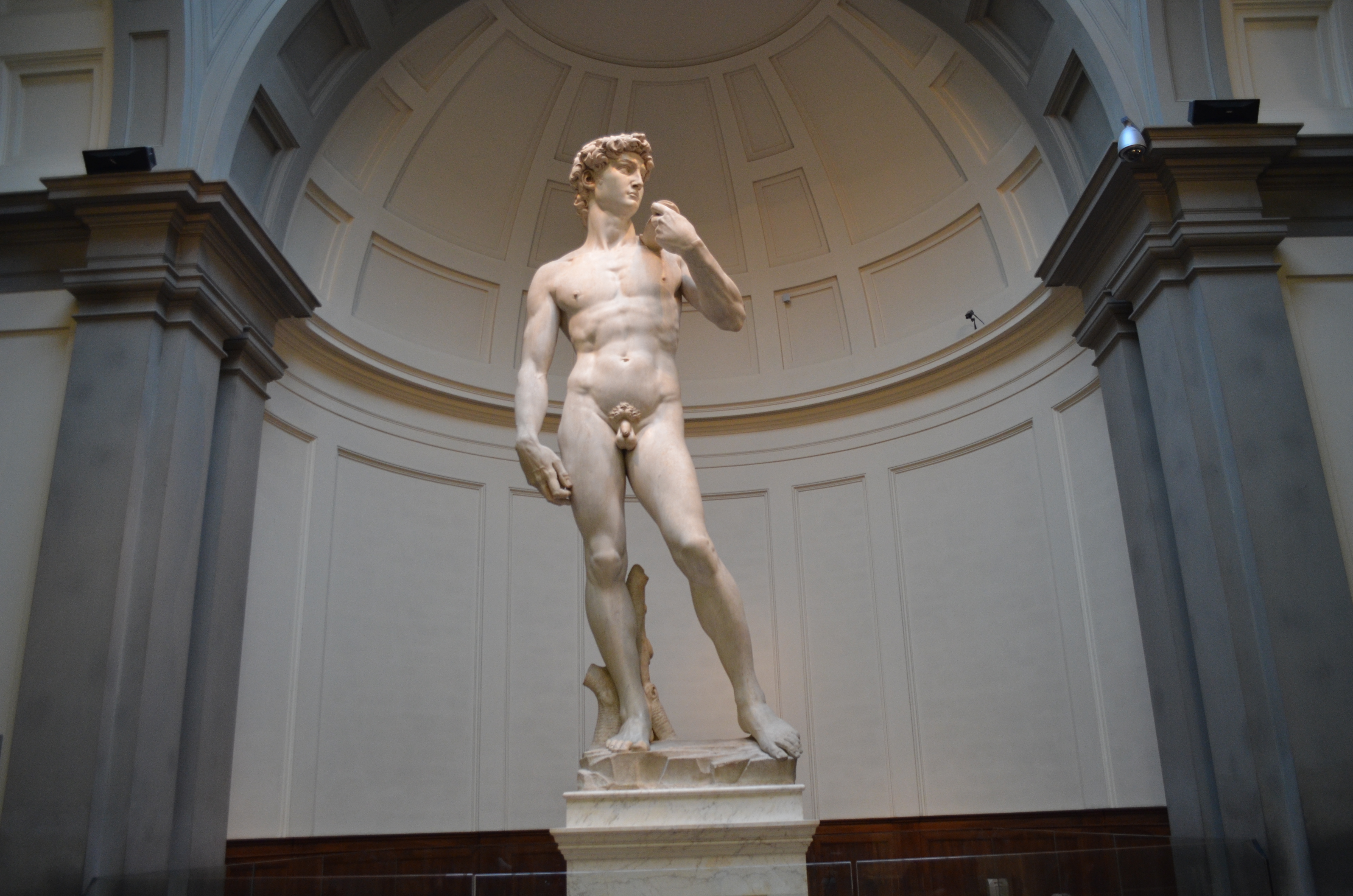 You probably recognize David as one of the world's most famous statues. But do you know these interesting tidbits:
1. DAVID IS 512 YEARS OLD
Michelangelo sculpted David from 1501 to 1504.  He was only 26 years old when he started the masterpiece and he finished before he was 30 years old!
Another fun fact – David received a "spruce up" bath just before turning 500 years old.
2. HE RESIDES IN FLORENCE, ITALY
The Galleria dell'Accademia has been David's home since 1873.
TIP: Save money by buying your ticket/s from the official website.  Or pay more to skip the line.
3. DAVID IS GIANT
He is as tall a giraffe, nearly 17 feet tall, and weighs as much as an elephant, approximately 6-tons!
4. HE WAS MADE FROM ABANDONED, FLAWED MARBLE
Two sculptors worked on the marble block then discarded it outside for more than 25 years prior to Michelangelo's commission.
5. DAVID IS A RELIGIOUS STATUE
He represents the biblical hero David before the boy engaged in battle with Goliath the giant. Originally the statue was to be placed on the roofline of the Florence Cathedral. It is believed David was too big to be lifted and/or too grand to be displayed so high. Instead the statue was placed outside at Palazzo della Signoria from 1504 to 1873, where he became a political symbol. David was positioned to face towards Rome, signifying that more powerful rivals would not threaten Florence.
THINGS TO PONDER:
1. ARE DAVID'S PUPILS HEART SHAPED?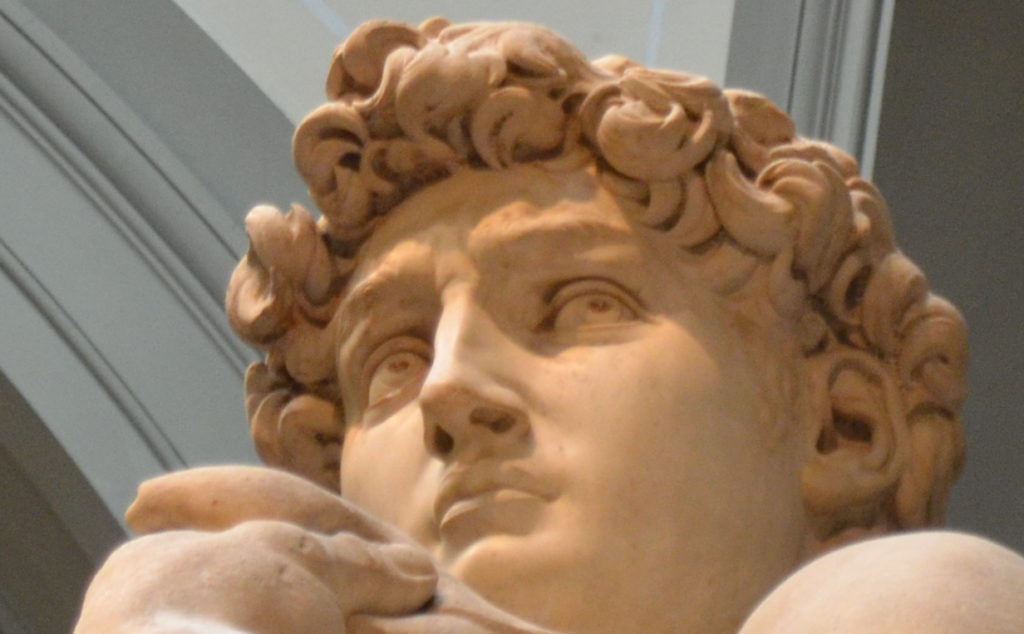 They certainly appear to be heart shaped. Is this simply Michelangelo's technique or is there meaning behind the hearts?
2. WHY ARE DAVID'S RIGHT HAND AND HEAD OUT OF PROPORTION?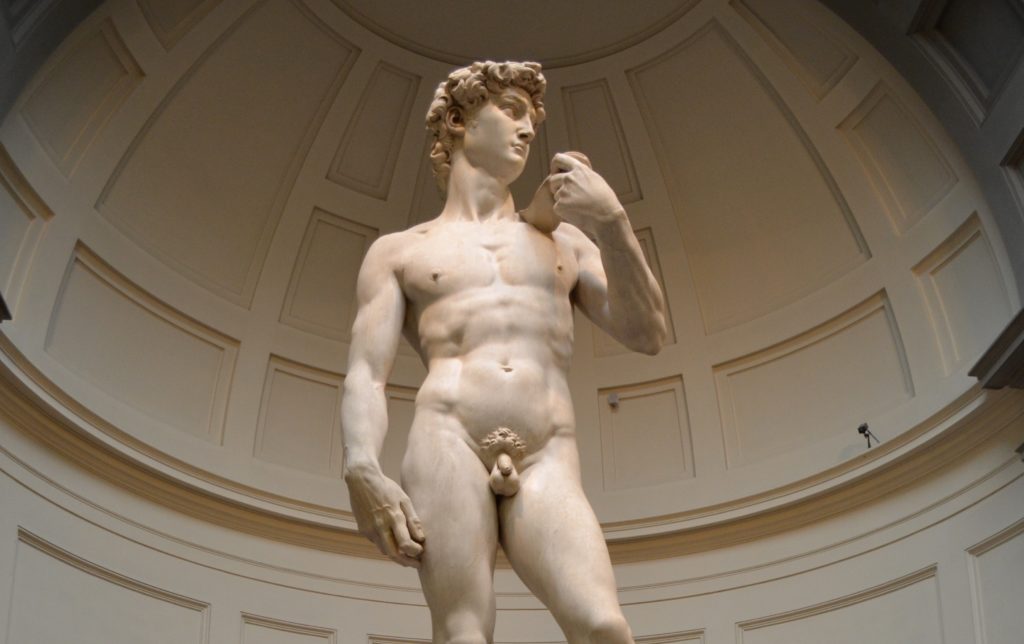 Since the statue was to sit at the Cathedral's roofline, it's possible Michelangelo accentuated these areas. Or perhaps his hand was enhanced because David was commonly said to be of "Manu fortis" (strong hand in Latin).
3. SPEAKING OF HANDS, IS DAVID A SOUTHPAW?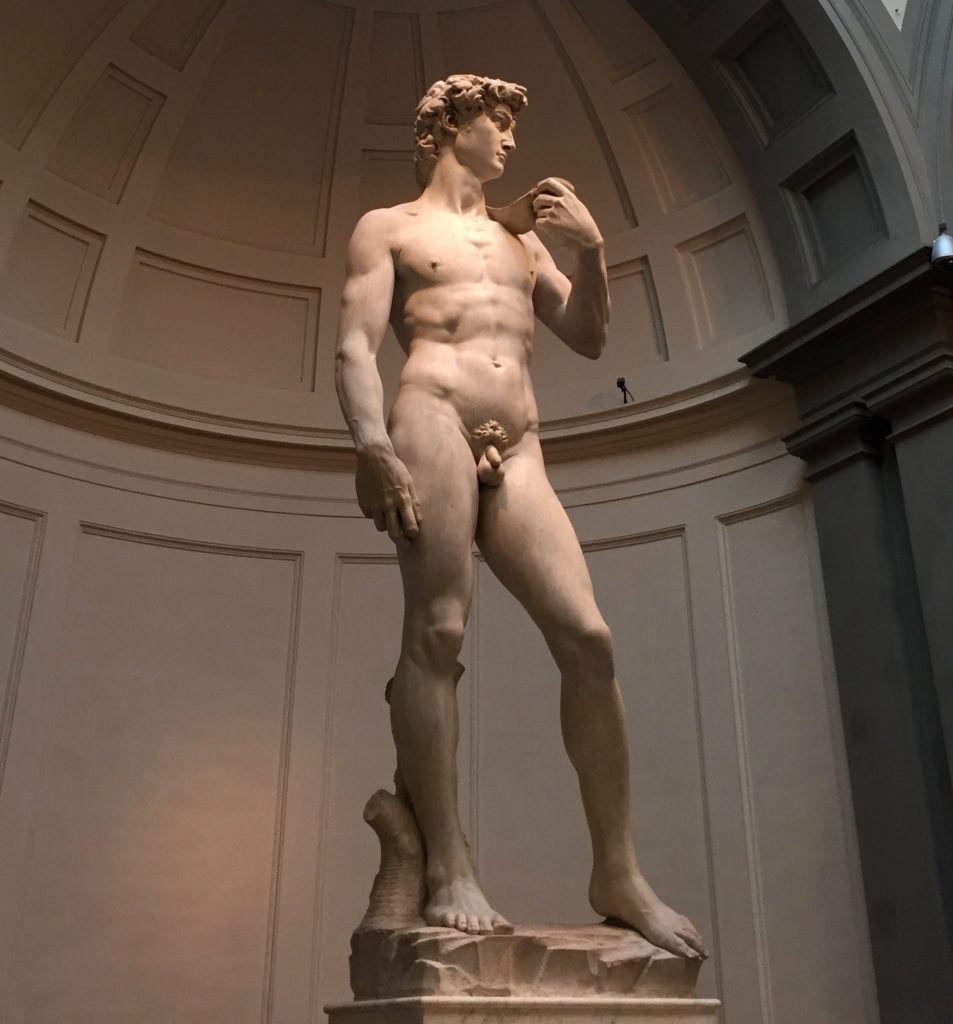 David is holding the sling in his left hand, which would indicate he is left-handed. But his stance suggests he might be right-handed.
4. WHY IS A TREE STUMP ATTACHED TO HIS LEG?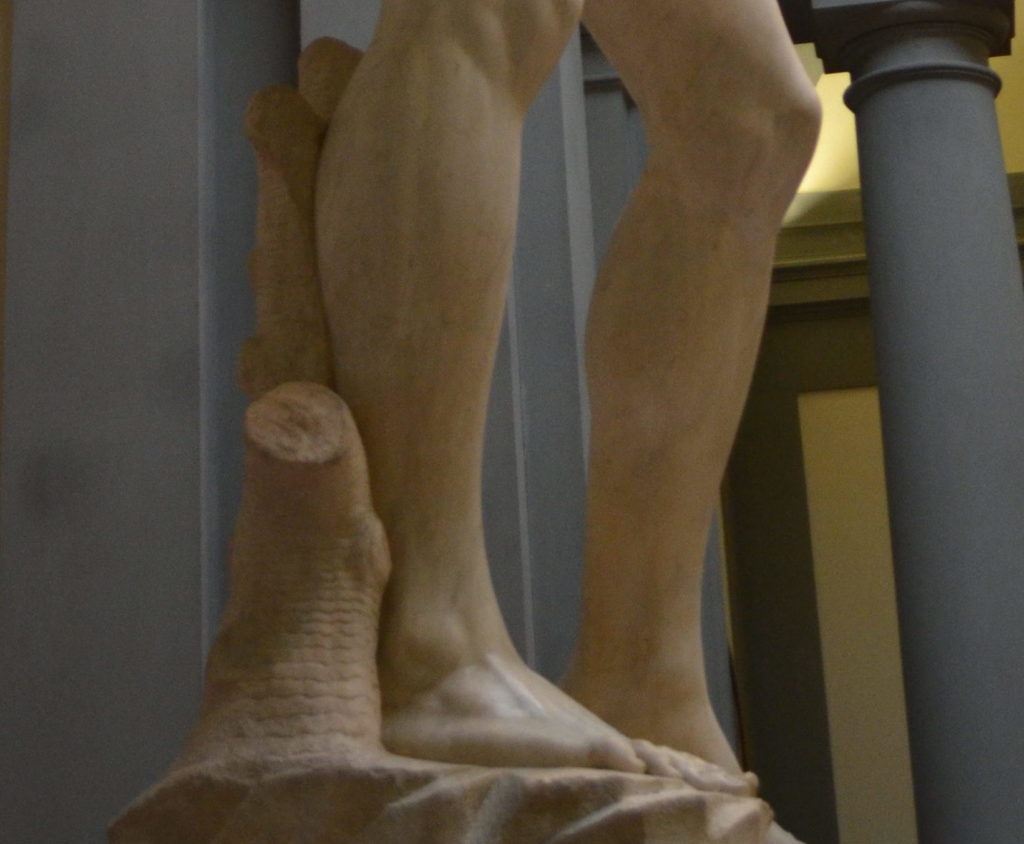 Tree stumps were often used in Renaissance sculpture provide balance.  Side note – originally both the sling and the stump were covered in gold leaf.
5. HOW COME DAVID IS NOT CIRCUMCISED AND WHY IS "HE" SO SMALL?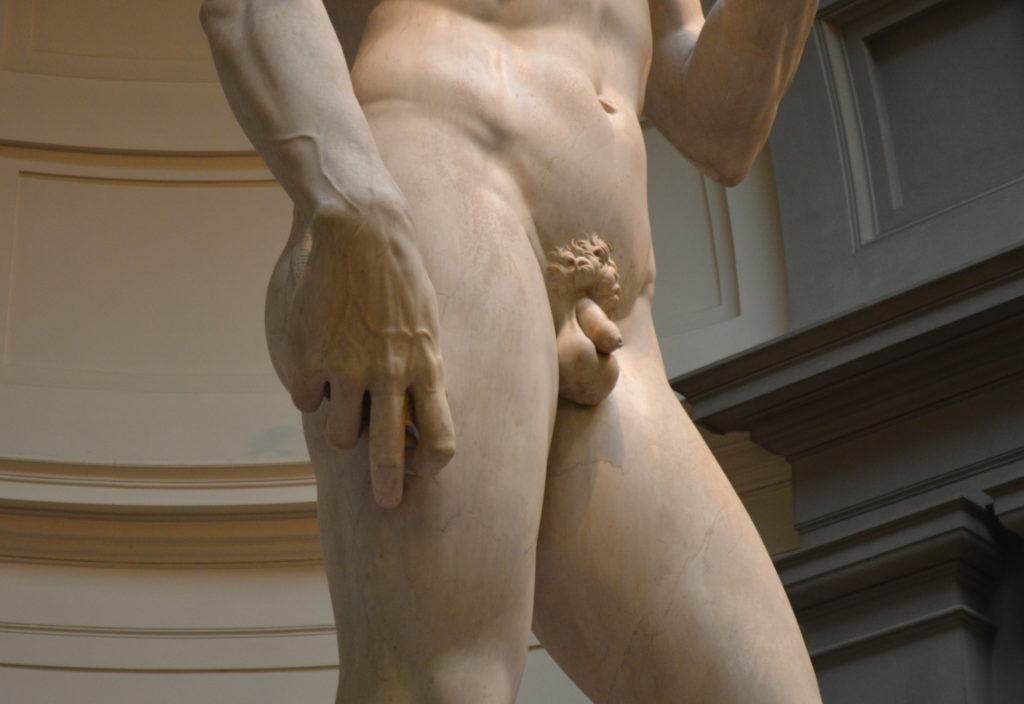 There is quite a bit of controversy on the web about David's nether region. Since biblical David was an Israelite (Jewish), he would have been circumcised.  But Michelangelo's David does not appear to be circumcised.  Is this because uncircumcised men were so common in Renaissance art?  Or is David circumcised more slight than how a modern day circumcision looks?
As for the size concern, could it be "small" because biblical David was a boy?  Or because Renaissance art was influenced by Greek art and in Ancient Greece a small penis was seen as a sign of nobility and cultural superiority?  Could it be because the standard for beauty in the Greece classical era was the prepubescent male?  Or, as some suggest, could it be that David's body is tense for battle?
6. WHY DO DAVID'S FEET LOOK LIKE THEY NEED A PEDICURE?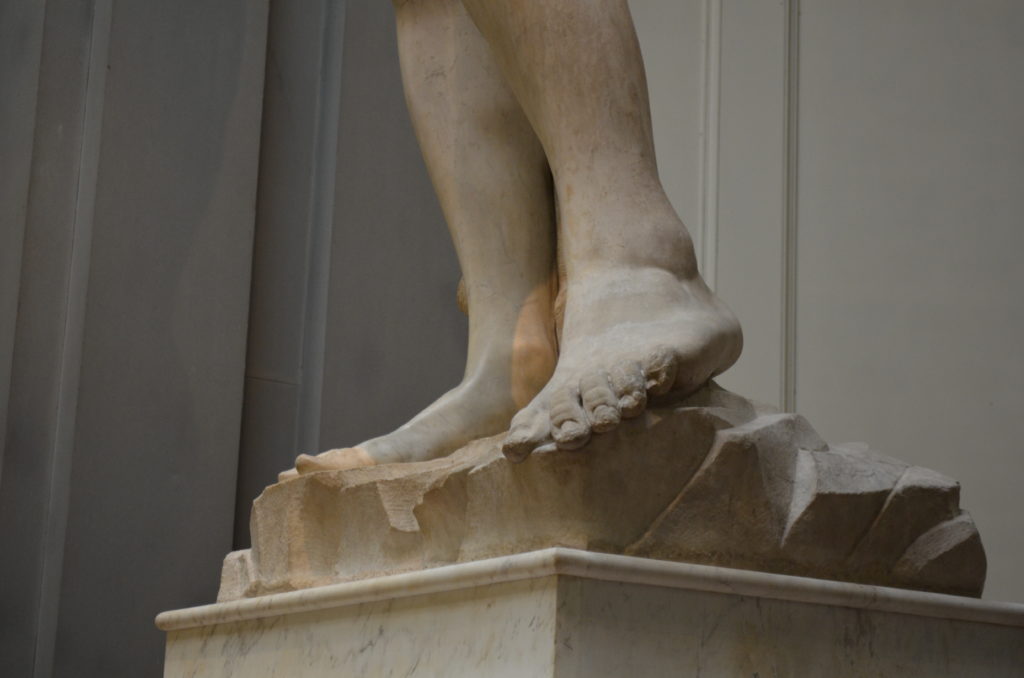 In 1991 a mad man attacked David with a hammer, breaking the second toe of his left foot.  Luckily all the fragments were collected after the attack and the toe was reconstructed.
Recently, David's weak ankles made worldwide news.  Many are concerned that micro-fractures will literally make David tumble down.
7. IS DAVID POSITIONED AS MICHELANGELO INTENDED?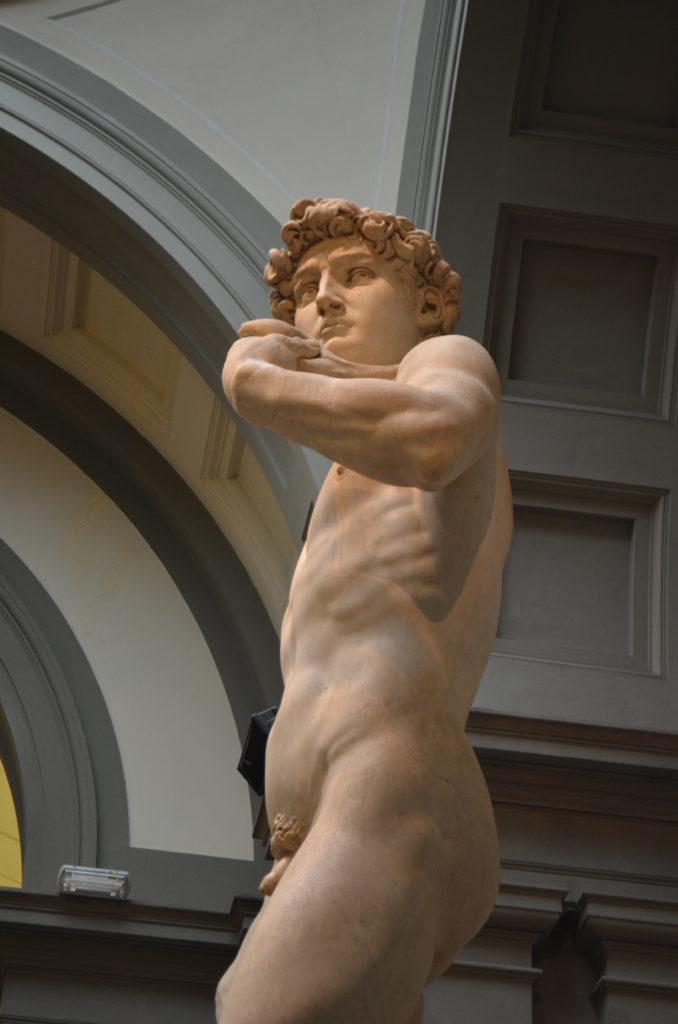 Most photos of David show him full frontal.  But it is believed that his face was intended to look the viewer straight in the eye.